If Athens is well known for its vibrant culture, it's partly thanks to its many rooftop bars that offer an experience that can't be found anywhere else: breathtaking views, cocktails with unique flavours, impeccable service, music for all tastes, and above all, that unique Athens atmosphere that makes you fall under its spell. Here is my selection of the best rooftop bars in Athens, Greece, to go to during the day or at night, for brunch, lunch, dinner, drinks and partying the night away!
This article contains affiliate links, which allows me to earn a small commission on any purchase you make through my links, at no extra cost to you. It helps me keep this blog running 
 thanks for understanding!
Hidden in a tiny street, Couleur Locale is one of the trendiest rooftops in Athens. Although this rooftop is not so secret anymore, it remains one of the best places in Athens to immerse yourself in the local culture as few tourists know about this address!
By day, you can sip a delicious freddo espresso while gazing at the Acropolis and the centre of Athens. Brunch is a must-try there. At night, house and funk music and an endless list of exotic cocktails await you. The food menu isn't extensive but everything is very good and fresh.
Address: Normanou 3 next to Monastiraki Square. The entrance is rather hidden, you won't see a sign in the street but rather a large building entrance with a few pieces of vintage furniture. Keep going! Take the stairs or the lift at the end of the entrance on the left and exit on the top floor.
Opening hours: 10am to 2am all week and until 3am on Fridays and Saturdays.
For the best view in Athens! A for Athens overlooks Monastiraki Square and its mosque and offers a beautiful view over the western districts of Athens. It is the perfect place to enjoy the sunset! The atmosphere is rather chic, and the menu gastronomic. Remember to book a table if you want to dine there, as the restaurant is often full. A for Athens has two levels, so be sure to tell your waiter that you want to go to the top floor. At the end of the season, take a light jumper with you, the rooftop is exposed to the winds.
Address: Miaouli 2 on Monastiraki Square. A for Athens is also a hotel, go past the reception and take the lift to the top floor.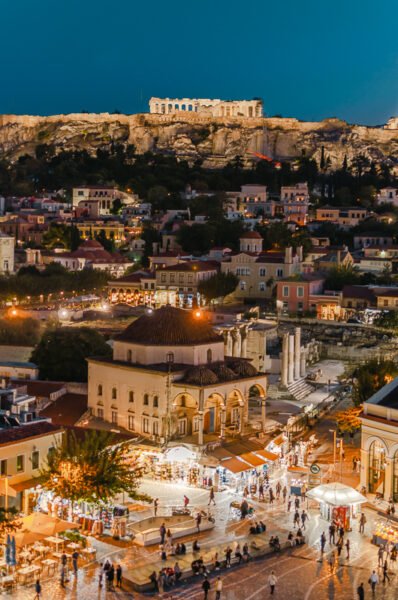 City Zen is another trendy rooftop not far from Monastiraki. I like the relaxed atmosphere and the beautiful view of the Acropolis, you can go there during the week or the weekend to have a drink with friends. The menu offers a wide range of western dishes, I particularly like their delicious mushroom risotto!
Address: Aiolou 11 near Monastiraki, enter the building and take the lift to the top floor.
Opening hours: 9am to 3.30am daily.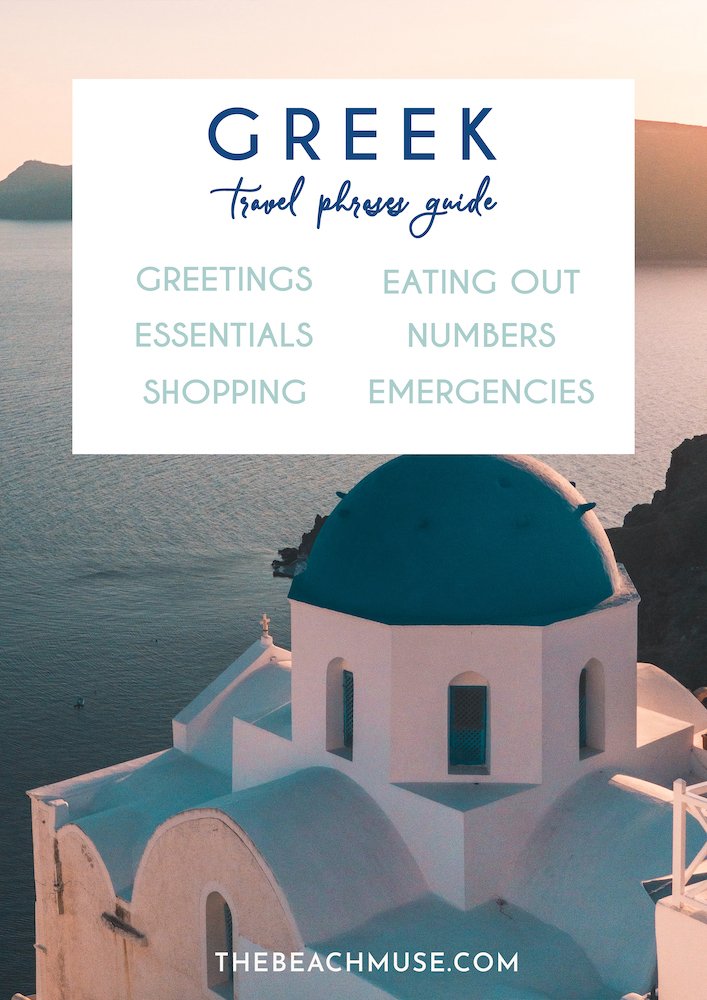 The last rooftop on our list in Monastiraki that is worth a visit! 360 offers a panoramic view of Athens and the Acropolis and a refined atmosphere. Its large tables make 360 the ideal rooftop for groups of 6 to 8 people, but always remember to make a reservation especially if you are coming for dinner.
Address: Ifaistou 2, just off Monastiraki Square.
Opening hours: 9am to 3am all week and until 4am on Saturday and Sunday.
Ergon House is a unique place in Athens that combines a shop selling high-quality local products, a restaurant, a hotel and a beautiful rooftop! The few tables create an intimate atmosphere and the view of the Acropolis does not disappoint. The menu and cocktails are absolutely divine, a must-try!
Address: Mitropoleos 23, near Syntagma.
One of the most fancy rooftops in Athens! Located on the top floor of the Hilton Athens hotel, the view of the Acropolis with the sea in the background is spectacular. You can go there for a fine dinner or a glass of wine in the early evening. Remember to book a table.
Address: Vasilissis Sofias 46, Evangelismos metro station.
Opening hours: 5pm to 1am daily.
A trendy rooftop in the middle of the old Technopolis of Athens. With many live performances taking place there throughout the year, it is a very popular place to go out in Athens.
Address: Voutadon 34, Kerameikos metro station
Hours: 7pm to 2am daily and until 3am on Saturdays.
Acropolis Museum Restaurant
More like a terrace than a real rooftop, the Acropolis Museum restaurant still offers a breathtaking view of the Acropolis and a wide choice of local wines. It's a great place to watch the sunset in the early evening.
Address: Dionysiou Areopagitou 15, Acropoli metro station.
Opening hours: Monday 8am – 4pm, Tuesday, Wednesday, Thursday and Sunday 8am – 8pm, Friday and Saturday 8am – midnight.
Known for its unique location on the beautiful stairs of Plaka, this pretty café has a cosy rooftop atmosphere perfect for a drink with friends or lovers. In the morning, ask for the breakfast option to get you through a long day of sightseeing on the right foot!
Address: Mnisikleous 23, in the heart of the Plaka district.
Opening hours: 8am to 2am daily.
This hipster bar surprises with its events, its original decoration, its underground music and its incredible view of the Acropolis. Instead of classic chairs, there are deckchairs, perfect for relaxing after a long day! The rooftop often hosts concerts and DJs for wild parties. On the lower floors, there is a contemporary arts centre, the Bios Cultural Organization, where you can enjoy theatrical, musical and artistic performances all year round, a small cinema, a restaurant and a café!
Address: Pireos 84, Kerameikos metro station.
Opening hours: from 4pm to 1.30am every day.
Rooftop bars in Athens, Greece to dance the night away
O2 (also called Omicron 2), open until 6:30am. Address: Voutadon 42 in Gazi, metro Kerameikos
Ku De Ta, open until 4am. Address: Voutadon 54B in Gazi, metro Kerameikos
So much for the best rooftop bars in Athens, Greece! Feel free to leave a comment to share your favourite rooftop bar with me 😎.
Did you like this post? Save it on Pinterest!