During this long quarantine period, I've had (quite a lot of) time to dive deeply into my travel memories. And how disappointed did I feel when I realised that I never shared photos of the trip to Paros I did last year! Time flies! So here is an article dedicated to four days well spent in Paros, visiting the beautiful towns of Parikia and Naoussa.
Disclaimer: This post may contain affiliate links, which means I may earn a small commission on any purchase you make through my links, at no extra cost to you!
Departing from the port of Piraeus early morning, we hopped on a Blue Star ferry to reach Paros. If you are in Athens, Piraeus is easily accessible by taking the metro line 1 in the city centre (Monastiraki). Within 40 minutes you'll be there! Piraeus is the main port of Athens, where all boats to the Cycladic islands depart from. There's also the port of Rafina, but unless you're moving around by car, I wouldn't recommend travelling to the islands from there.
After about 4 hours on the ferry, we reached the capital of Paros, Parikia!
A quick tip: There is no seat number assigned to your ticket in the ferries. First come first served! So, if you want to find the best seats and be comfortable during the trip, I recommend going to the ferry at least one hour before departure. If comfort is not your main priority (and like me, you'd rather sleep 30 minutes more especially when your ferry is at 7 in the morning!), I would advise being there around 20 to 30 minutes early. You never know how many people are waiting to get on board at the last minute… And oh, during the highest touristic period (August) you might not even find somewhere to sit at all if you make it too late (talking from experience here!).
Another option to travel to Paros is to come by plane. Paros has a small airport with flights coming from Athens (only). There are no international flights so far!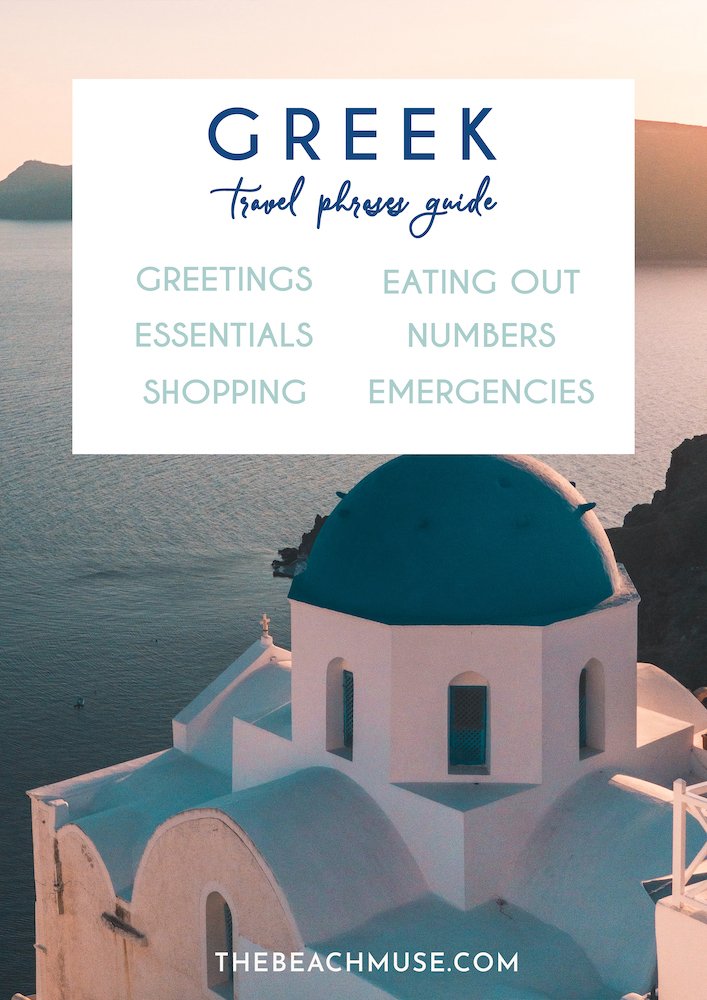 Parikia or Naoussa?
Before having a look at things to do in Parikia and Naoussa, let me tell you which town is best for you to stay at.
Best place to stay in Paros: Parikia
If you are looking for a more laid-back vacation, or are travelling with kids, you will love Parikia!
Here are the pros of staying in Parikia:
– It is very easy to access (the ferry leaves you in town, no other transportation needed)
– It has its own beach directly in the town
– So many cute shops and charming streets
– Quiet!
– Great restaurants
– Central location
Best place to stay in Paros: Naoussa
If you are looking to be at the heart of Paros' vibrant lifestyle, Naoussa is for you!
Pros of staying in Naoussa:
– Prettiest streets on the island
– Great nightlife
– Younger crowd, not so many families
– Incredible restaurants and bars
– Many shopping options
– Close to nice beach clubs
I hope that this can help you decide between Parikia and Naoussa! Now let's have a closer look at both towns.
Parikia is Paros' capital and where the ferry will leave you. However, unlike Mykonos, the port is straight in the village, which makes it very easy to reach your hotel on foot in case you are staying in Parikia! Most areas are accessible within 10 minutes walk. As soon as arriving at the port, a characteristic windmill immediately immerses you in the charming beauty of the Cyclades, and that's how our vacation started!
Parikia is definitely one of the most charming villages of the Cycladic islands, so explore it! Get lost in the cute little whitewashed streets, starting straight from the port.
According to excavations that took place on the island, Paros has been inhabited since 3200 BC, and Parikia was always the capital of the island. Mythology tales relate that Alkaios, a Cretan, was the first king of Paros and built the first town there, on the grounds where Parikia now stands.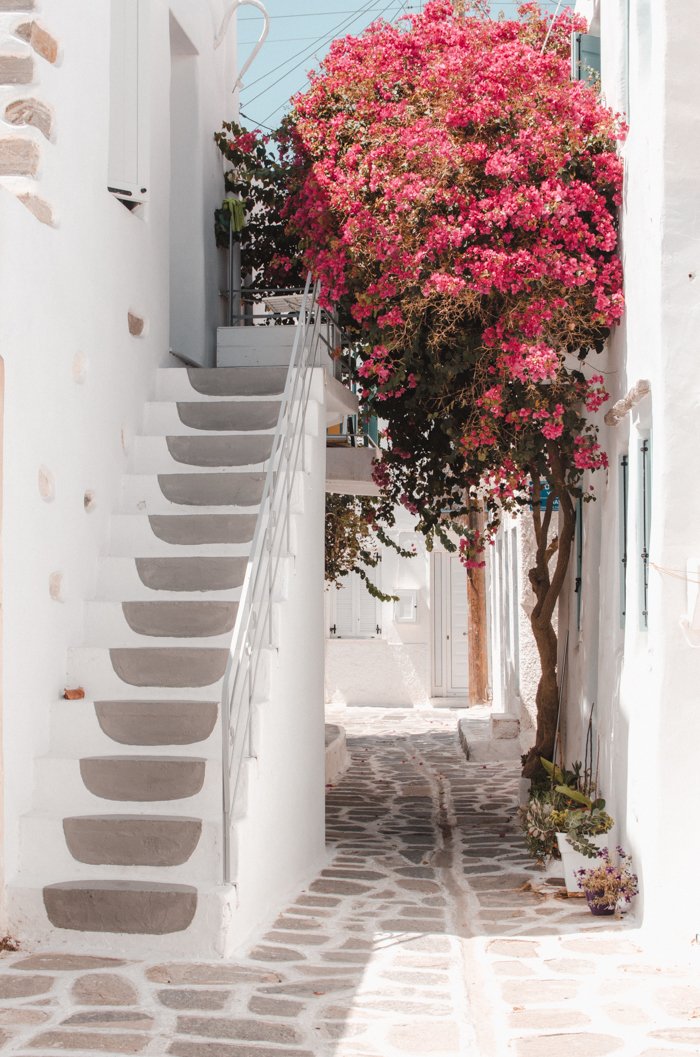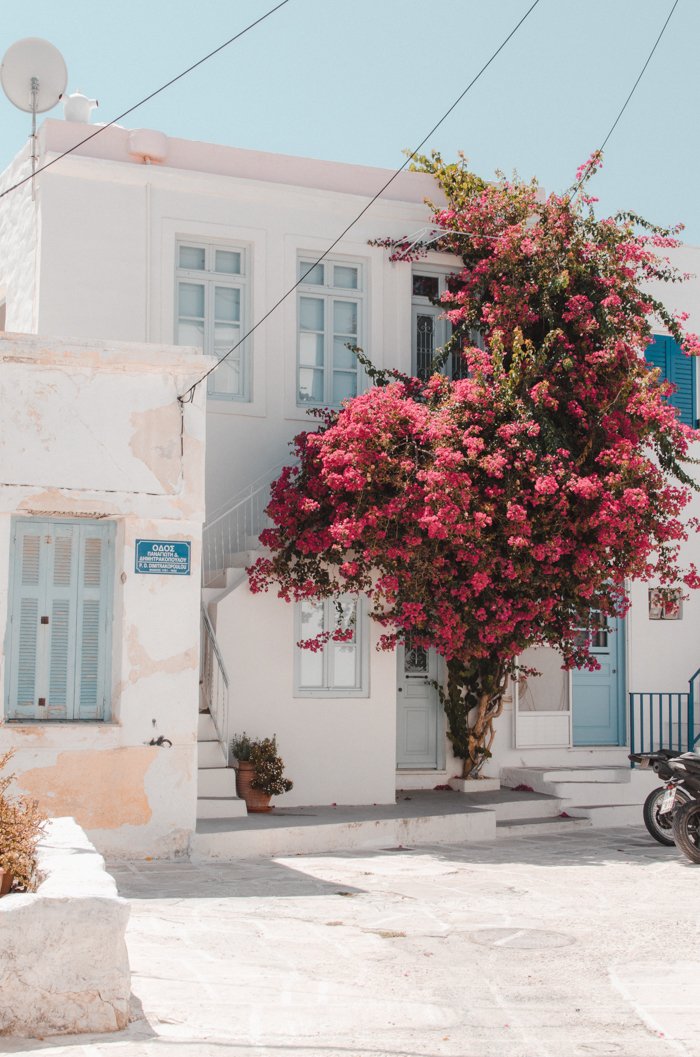 Another interesting fact about Paros is that during the antiquity, the island was best known for its marble. Parian marble is of exceptional quality and was used in famous sculptures like the Nike of Samothrace (the Winged Victory), the Venus de Milo, and even the roof of the Parthenon.
What you cannot miss in Parikia is the famous Panagia Ekatontapyliani, the church of "a hundred doors". The Byzantine church was built in 326 AD by Saint Helen, mother of the Roman Emperor Constantine. Its name comes from a mysterious legend, stating that "Ekatontapyliani has ninety-nine visible doors. The 100th door is closed and can not be seen, and will appear and open when Constantinople becomes Greek again". Nowadays, it is well-known for its pilgrimages happening every year for the Holy Virgin during the Assumption.
Within the Panagia Ekatontapyliani is also the Byzantine Museum where you can find a beautiful collection of icons and other artefacts.
Like all Greek islands, the streets of Parikia are full of small shops selling cute jewellery, beautiful sandals, tasty traditional Greek products and more! Explore the streets of Lachagoi Georgioi Gravari and Lochagou Kourtinou, where you will find most of the shops.
Best places to eat in Parikia
Most restaurants and bars are in the street Lachagoi Georgioi Gravari, on the square Mados Mavrogenous, and on the seafront (in front of Parikia's beach). Every restaurant we tried there was fantastic!
I would recommend giving a try to Giannoulis Taverna for nice meze, Levantis for fine contemporary Greek cuisine and Symposium which has the most beautiful setting under an enormous bougainvillaea tree. And don't miss Ragoussis bakery, which has a large choice of sandwiches and biscuits, perfect for a morning or beach snack!
For a drink at night, we enjoyed Pirate Bar's intimate setting a lot, and Zen Cafe for its incredible view of the bay. We also heard about Sativa Music Bar but lacked time to visit it!
Parikia is a relaxed, couples/family destination. Therefore, you will find plenty of options accommodation-wise! Apartments, houses, Airbnb's, hotels, and even hostels, at all price ranges. We stayed in Nautilus Apartments, close to most restaurants and shops, and had a wonderful time. The place is fully equipped and even has a tiny kitchen in case you need to cook something quickly!
We visited Naoussa one late afternoon, after a day trip to the beach of Santa Maria, in the northern part of the island. Naoussa is the second biggest village in Paros, and was highly recommended to us as well! And I have to say: I fell in love with Naoussa even more than I did with Parikia.
Located on the northern part of the island, about 10 kilometres away from Parikia, Naoussa is an enchanting fishing village, well-known for its restaurants, cocktail bars and stylish boutiques. The picturesque streets are nice to explore, and the traditional harbour is a magical place to have dinner at.
Some photographs of the beautiful streets of Naoussa:
Best place to eat in Naoussa
When looking for a place to eat in Naoussa, the options are so many that it's hard to choose! And like in any other touristic village, there are some tourists traps you should avoid. As we were looking for the best restaurant in the old harbour, we asked a local for advice and decided to try Sigi Ikthios. It was definitely my favourite diner in Paros! Prices are not cheap, but the setting, the food and the wine were all incredible. I highly recommend you to check it out! And a tip: be sure to make a reservation early enough, otherwise, you won't be able to find a place to sit.
For drinks, we stopped at Sante Cocktail bar, located on one of Naoussa's squares. The place was really charming, and although the bar was open-air, the atmosphere felt really intimate thanks to the large tree protecting the square and the numerous candles all around. A perfect spot for an aperitif or after-dinner drinks!
Wondering how you can explore the many villages and beaches of Paros? Let me help you out here. Parikia and Naoussa both have car/scooter rental options, from Europcar to local shops like Paros Rentals. My advice: book your vehicle online at least 15 days prior to your visit to enjoy the best prices. Bookings in physical stores are always more expensive than online!
The other option is to go around Paros by bus. The island is well connected, and the bus quite regular (every 30 minutes/1 hours or so). You can find updated bus timetables and routes here.
Best experiences and tours in Paros!
Have you ever been to Paros? I would love to hear about your experience of the island! Or let me know if you'd like to visit it in the comments below.
Save this post for later on Pinterest: