Paleokastritsa, a gem in Corfu island
Located on the north-west part of the island, Paleokastritsa has quickly become one of my favourite destinations in Corfu. Made up of several pretty beaches overlooking a lagoon, the landscapes are absolutely breathtaking. The cypresses' emerald, the water's turquoise, the rock's ivory… And the steep coast home to a monastery sitting on a cliff! Such a lovely setting. A place you shouldn't miss if you are visiting Corfu!
This article contains affiliate links, which allows me to earn a small commission on any purchase you make through my links, at no extra cost to you. It helps me keep this blog running
thanks for understanding!
The name Paleokastritsa, which means "old castle" in Greek, comes from the nearby castle of Angelocastro ("Angel Castle"), located only a few kilometres north on the coast. It is one of the most important castles in Corfu – with Corfu Town's castles, of course, the Old Fortress and the New Fortress – and it used to form a defensive triangle with the ones in Kassiopi and Gardiki. Angelokastro is also worth the visit, you can enjoy a wonderful view atop of it.
Paleokastritsa is full of history! It is known as the place where Ulysses made his final stopover before reaching Ithaca. There he met the beautiful "Nausicaa of the white arms", daughter of king Alcinous. Castaway on the coast of the Phoenicians' former lands, a place which is nowadays recognised as Paleokastritsa's beach, he was rescued by them before putting an end to his long journey.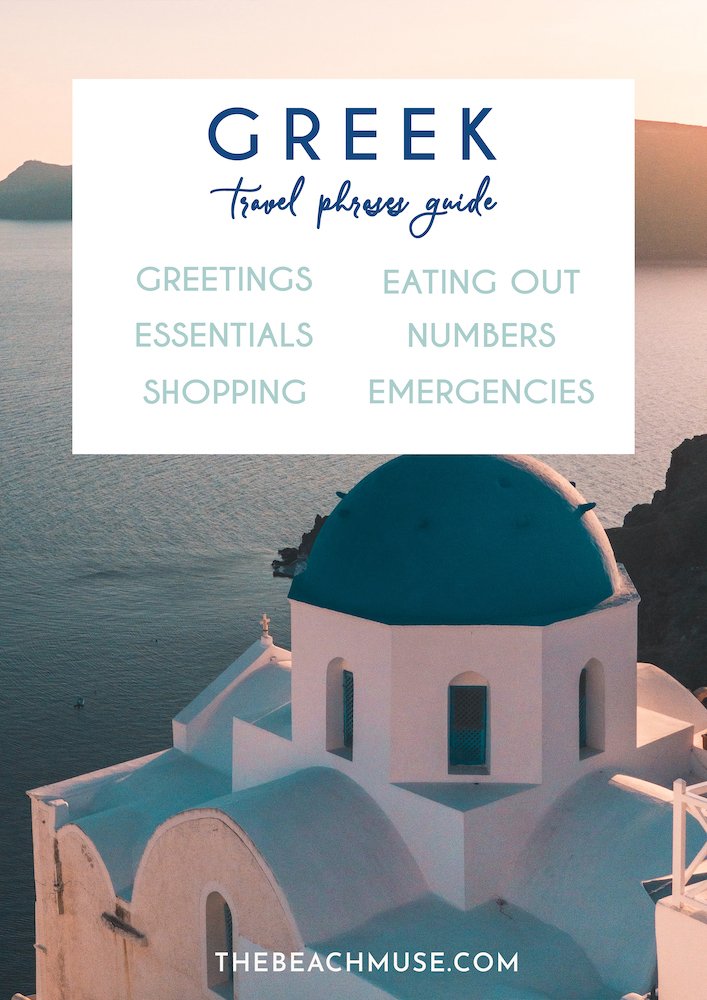 Nowadays, Paleokastritsa is a quite touristic destination, where, along the road leading to the coast, you will find some souvenir shops, tavernas and other hotels and guestrooms. The best period to visit Paleokastritsa is in May-June-September, if you can avoid the busy summer months (July-August) you will be rewarded with a peaceful atmosphere.
Did Paleokastritsa spark your interest? Here are some beautiful pictures of places around the Paleokastritsa area, and how to spend the day there!
The best beaches in Paleokastritsa
Paleokastritsa's coastline is home to many beaches with different atmospheres. Here are my favourites!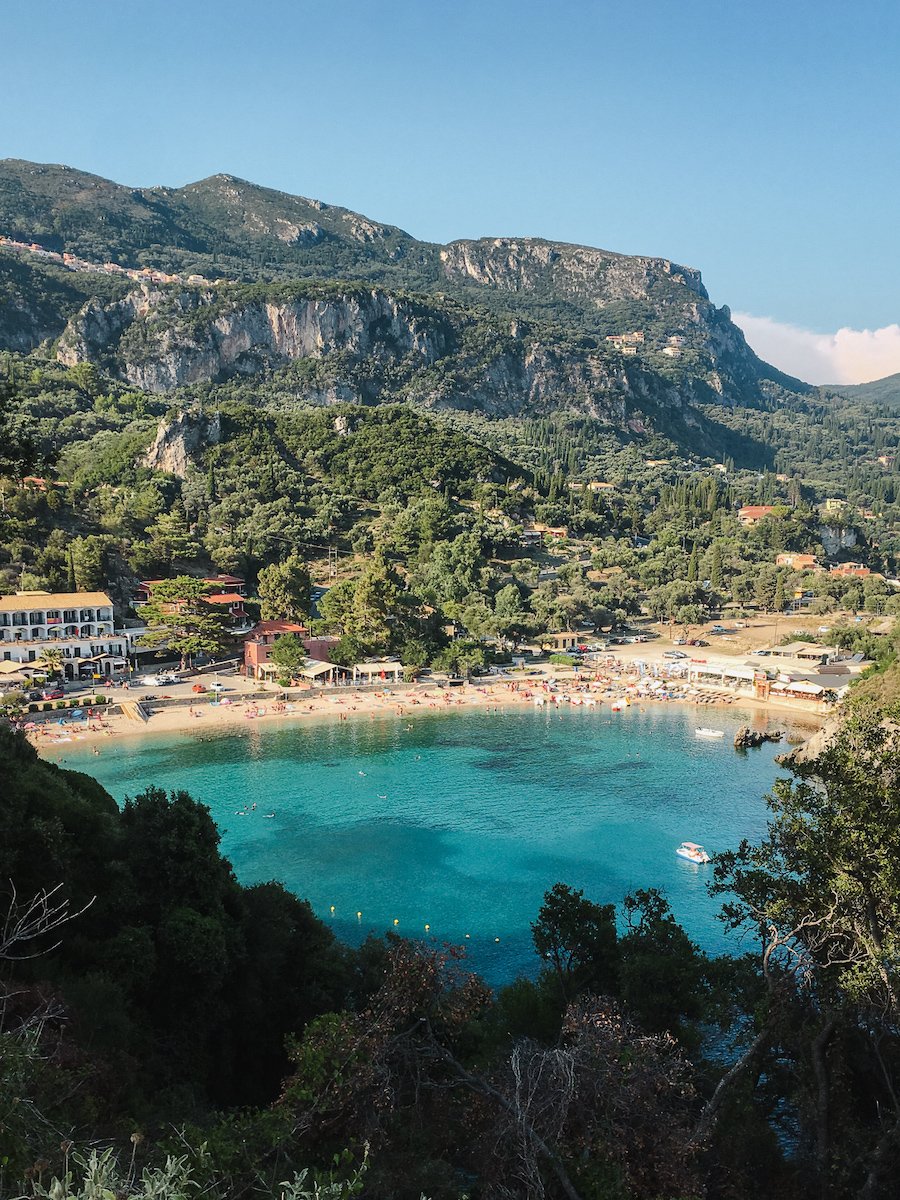 Agios Spiridonas is the main beach of Paleokastritsa, where you will find pedalo and boat rentals and the starting point to Paradise Beach. The beach itself is pretty and offers a really beautiful view but it quickly becomes overcrowded in the summer, which doesn't make it the best place to relax!
We usually like to settle there when we want to go snorkelling, Agios Spiridonas bay is a really good spot to explore. For those of you who are sensitive to cold, I recommend wearing a surf top so you can stay in the water long enough to go around the bay, the water there is not the warmest! Above the beach, you will find a few restaurants and coffee shops.
Located a little outside of Paleokastritsa, it is an organised beach smaller and quieter than Agios Spiridonas beach. If you decide to go there by car, try to park as soon as you can in the village, for there is no parking next to the beach! The place is really idyllic.
Alipa Beach is where Paleokastritsa's marina is located, it is such a charming setting! There, you will find a restaurant right on the beach, which provides a fantastic view besides serving excellent local Corfiot food. A place you definitely shouldn't miss! Opt for lunch there, when the beach is bathed in sunshine, rather than dinner when the sun is gone and the beach in the shadow.
Paradise Beach must be one of my favourite beaches in Corfu! The site's natural beauty is absolutely breathtaking. The cliffs are made of rocks strata which give the place a surreal feeling, the atmosphere there is nothing like the rest of the island.
Like a hidden gem on the coast, Paradise Beach is only reachable by boat from Paleokastritsa's main beach, Agios Spiridonas, and even if the trip there may seem a little expensive (20€/person for a round trip) it is totally worth it. You can also rent your own boat for a day. On your way there, you will discover several caves as well as the hundreds of fishes fluttering in the crystal water running alongside Paleokastritsa's coast. Wonderful!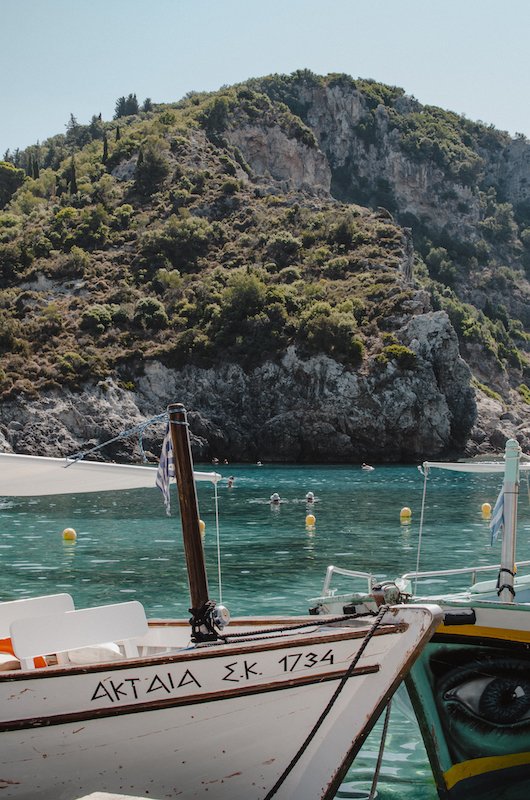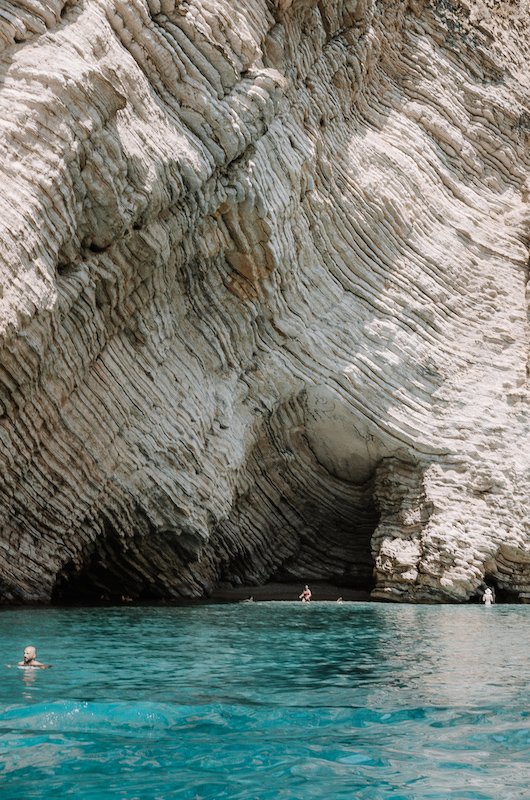 Once you reach Paradise Beach, you will just have to inform your captain of the time at which you want to leave and a boat will come to pick you up. There, you won't find anywhere to get freshwater or something to eat, so don't forget to pack food and drinks ahead.
And most importantly, don't forget to bring an umbrella! There is barely any shadow on the beach. The only shadow you can find is right next to the cliff, and not only is it really narrow, but you will also have to run on burning hot pebbles to reach the sea. I wouldn't recommend it 😁. The sea is a little cold but the water so clear, if you have a mask and a snorkel go explore the place!
Monastery of Paleokastritsa
Perched on the hill nearby Agios Spiridonas Beach (Agios Spiridonas means by the way "Saint Spiridon", who is the patron saint of Corfu's island) remains hidden the Monastery of Paleokastritsa, between cypresses, oleanders and bougainvillaea. There, you will discover a charming yard, a small church and a shop selling olives, olive oil and kumquat liqueur, Corfu's traditional fruit. Bear in mind that you should wear proper clothing (covering your body a minimum) otherwise you won't be allowed to get in. Visiting the site is free and the view from the monastery is gorgeous!
The best place to end your day on a high note! We love spending an hour or two at this beach bar, built directly in a cave ("grotta" means cave in Italian!), the cocktails are good and the house music gives a nice vibe to the place. You can also enjoy a splendid view of one of Paleokastritsa's cove. But get ready: to reach La Grotta, you will have to climb down (and then up, remember this when about to order your 3rd cocktail) a few hundred steps to reach this hidden spot!
Finally, don't miss the castle of Angelokastro. Located on top of a cliff, the view there is spectacular, the rock falling straight into the turquoise sea. It's the ideal place to learn more about Corfu's history while enjoying a wonderful sunset!
Itinerary idea for a day in Paleokastritsa
Morning: climb to the Monastery of Paleokastritsa, visit the place (about 1 hour in total)
Lunch: have lunch at the restaurant on Alipa beach
Afternoon: a trip to Paradise Beach, you need more or less 30 minutes to reach the beach on your way there, depending on the different places your captain will show you (every ride is unique!), and 15 minutes on your way back.
Late afternoon: stop for a drink at La Grotta beach bar
About an hour and a half before sunset: depart for Angelokastro! Visit the site and enjoy the sunset from the castle, or from the restaurant down the hill which serves delicious traditional Greek food. You can also buy a few drinks and snacks before climbing to Angelokastro, the place is really quiet at the end of the day and perfect for an improvised aperitif on the rocks! Don't forget to clean after yourself.
Want to stay in Paleokastritsa? Here are my recommendations.
The 5 best hotels in Paleokastritsa
The 5 best Airbnbs in Paleokastritsa
Best experiences and tours in Paleokastritsa!
Save this post for later on Pinterest: