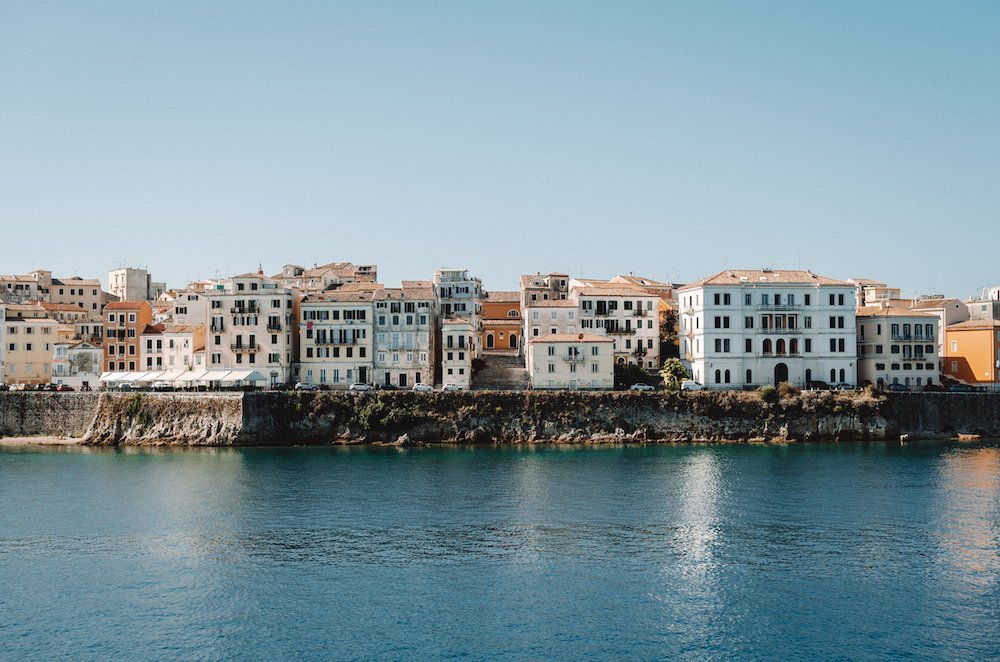 "Kerkyra, Kerkyra, me to Pontikonisi…" Let the famous Greek song introduce you to the beautiful island of Corfu and make you dream about two of its main attractions, Paleokastritsa and Pontikonisi. With its pretty landscapes, laidback lifestyle and numerous secret coves, it's no wonder Corfu has been the muse and home of hundreds of artists like Rena Vlachopoùlou throughout the years! Located off the western coast of Greece, not far from the Albanian shores, Corfu has it all. With that in mind, let me walk you through the best things to do in Corfu. Here are 20 things I love doing every summer I go to this magical island!
This article contains affiliate links, which allows me to earn a small commission on any purchase you make through my links, at no extra cost to you. It helps me keep this blog running 
 thanks for understanding!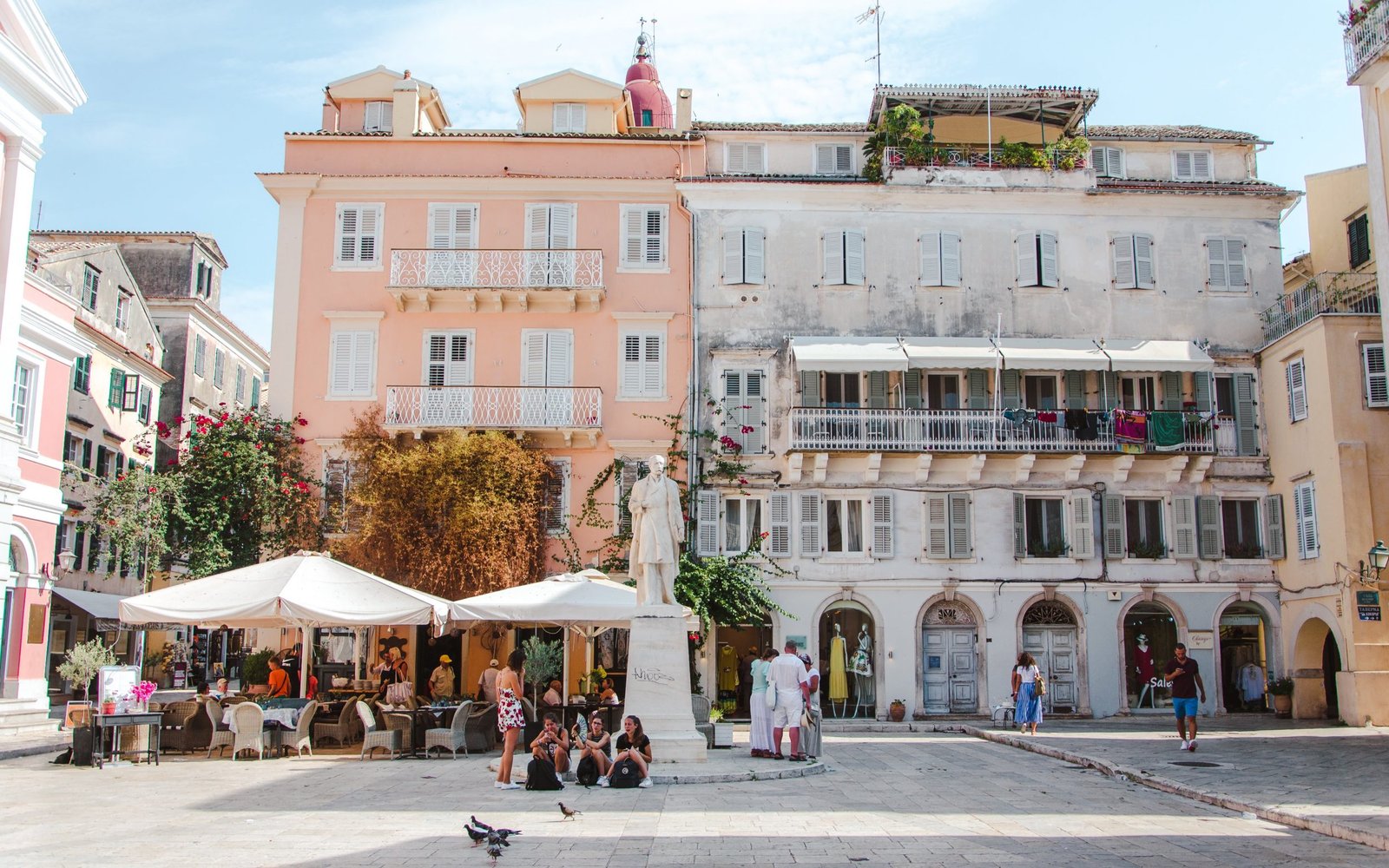 Corfu Town and its pretty, old Venetian buildings, its small charming boutiques and its narrow streets buzzing with life will win your heart in a matter of seconds! The Old town of Corfu is a UNESCO World Heritage Site where Greek, Italian, French and English cultures have met and mixed over the centuries, creating a truly unique setting.
I love wandering around the streets early in the morning, when the town hasn't fully awoken yet, and at the end of the afternoon when tourists and locals together bring Corfu Town alive.
You can follow a private walking tour of Corfu Town to learn more about its history, or even get together with a local in the evening and enjoy some local wine!
A must-see when in Corfu! This lagoon with crystal clear, turquoise waters is one of my favourite spots to spend a day. I love to swim with fishes there, eat delicious food and enjoy the magnificent views. And visit the beautiful Monastery of Paleokastritsa!
Accessible only by boat, this not-so-secret-anymore beach is protected by high cliffs and is a wonderful place to go scuba-diving. Paradise is more than a suitable name for this spectacular location! While many people take the boats leading daily to Paradise beach from Paleokastritsa, the beach is very large and you will find some quiet areas to relax and enjoy an afternoon there. More information about Paradise Beach right here.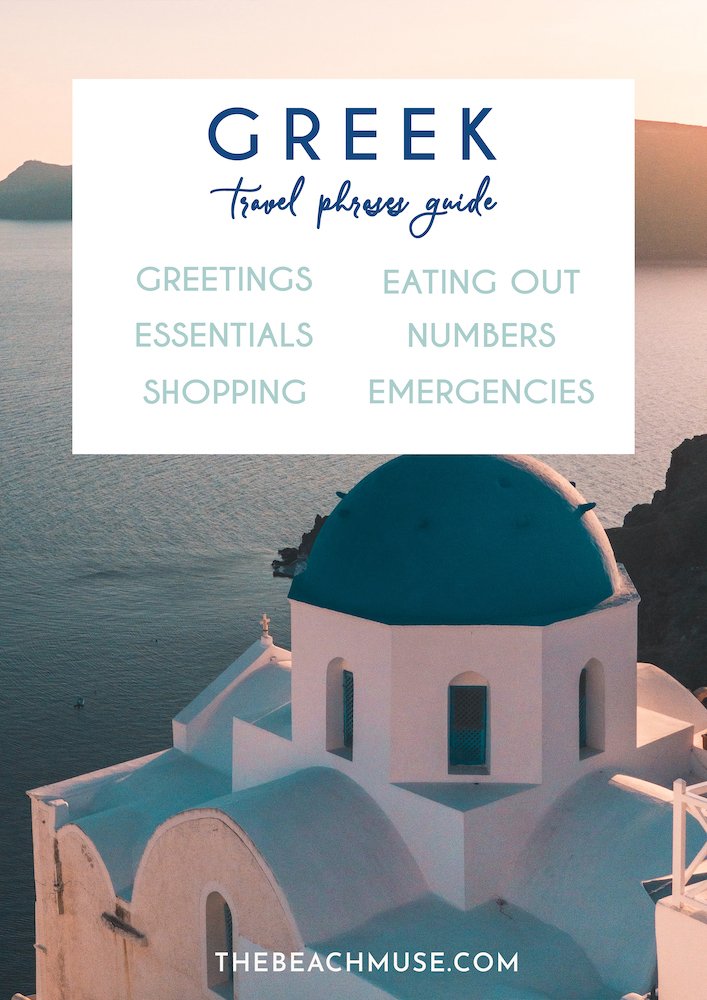 4. Visit the Achilleion Palace and its gardens
Built in 1890 by the Empress Elisabeth of Austria, also known as Queen Sissi, this royal palace is worth visiting for its beautiful interiors, its lush gardens and its powerful history. The Achilleion Palace's opening hours are from 08:00 to 20:00 every day (hours may change during holidays). The entrance ticket for adults is 10€ and include an audio guide but you can also book a tour of the Achilleion Palace operated by a guide here or there.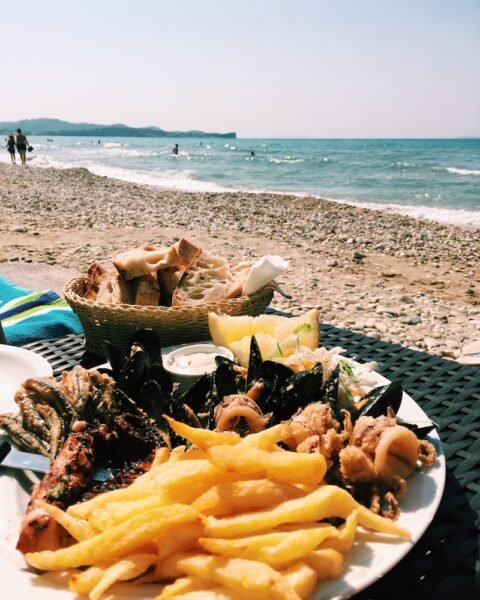 With its rainy winters and sunny, hot summers, Corfu is strategically located and produces some of the best products in Greece, the most famous being the kumquat! Try some kumquat sweets and kumquat liqueur at the Mavromatis Distillery (unfortunately, you can't visit the factory and see how the products are made but you can enjoy a free tasting there!), or buy them in Corfu Town or at local supermarkets.
Another thing you should try is Corfiot figs. They grow all around the island, so if you visit Corfu in August, keep your eyes open on the road to snatch delicious figs here and there! A local product made from figs is the "sikomaïda", a thick paste made with figs and spices you must try!
Olives and olive oil from Corfu are also very renowned, as well as honey. Try the one made from thyme, it's the best! Finally, enjoy the local seafood: calamari, octopus, bream (look for "tsipoura – τσιπούρα" at the restaurant), mussels are some of my favourites. Try also a dish called sofrito, a delicious beef stew with parsley, white wine and garlic.
Best tours and experiences
6. See the sunset at 7th Heaven on Loggas Beach
7th Heaven is one of the first places I discovered in Corfu! It is located close to Sidari, in the north-western part of the island. George, the owner of the bar (and of the Panorama restaurant right next to it), is an old friend of Alex's, so we go there pretty often to enjoy the amazing sunset and excellent drinks made by our friend Lakis, undoubtedly the best barman on the island!
The bar itself is located on a cliff, right above Loggas Beach (which unfortunately doesn't really exist anymore, the sand disappeared and last winter part of the cliff fell!) so you can enjoy a fantastic view, with the sun setting right in the middle of the sea! There is also a transparent viewing platform where you can see the sea right under you, an amazing experience.
At night, locals gather there and we always have a little party with house music. If you visit Corfu in August, there's a high chance you will find me there, drop me a message and come to have fun with us 😁
There are many other places where you can enjoy the sunset in Corfu! My other favourite spots to watch the sunset are Acharavi beach while doing SUP or canoe (it's the village where Alex's family is from) and Akrotiri Cafe, located above Arillas beach. It is a quiet and romantic place, perfect to enjoy an Aperol or a glass of wine.
Along the coast between Loggas Beach and Sidari are some impressive places with cliffs made of clay. Canal d'Amour is one of them! Although the cliffs are not very high, there is a lovely cove to stay at and enjoy. This place became popular because of a tunnel, the "Canal d'Amour" ("love channel"), that leads from the main beach to the other side of the cliff. Carved by the sea and the wind over the years, the local legend says that two people swimming through it together will get married soon! Canal d'Amour is very popular and busy in the summer so it is likely that you won't find anywhere to sit on its tiny beach. What you can do is leave your things on the rocks nearby while you swim through the channel!
We also like to explore around the area with a SUP or a canoe, you can rent one at d'Amour Beach in Sidari from our friend Zoe!
Not far away from Canal d'Amour and close to Loggas beach is a beautiful place called Cape Drastis. A dirt road leads to the small cove from which you can reach the cape, keep your eyes open on the way down for a scenic view of Cape Drastis!
To reach Cape Drastis, you have a couple of options. The first one is, when you arrive at the cove, to swim till Cape Drastis. It takes about 15-20 minutes. I would suggest doing it in the morning so you are swimming in the sun, otherwise in the afternoon, the shadow of the cliffs make the sea look a bit dark. It personally makes me feel a bit uneasy so I'd rather avoid it 🤪. You can also half-walk/half swim along the cliffs. The second option is to take a boat to go and see the Cape! Look for our friend Michalis, he will take you there from the cove for a small compensation.
Being the second-largest island in Greece after Crete, Corfu has dozens of beautiful beaches! From large sandy beaches to small coves with pebbles, Corfu has it all. Some names to keep in mind: Glyfada, Kontogialos, Paleokastritsa, Kerasia, Bataria, Agios Georgios, Porto Timoni, Arillas… The list is long! Most beaches in Corfu have an organised side, where you can rent umbrellas and sunbeds, and a public side where you can sit for free.
10. See Pontikonisi and the Vlacherna Monastery
One of the most beautiful scenic views on the island! The Vlacherna Monastery is a small church in the middle of the sea, very close to the coast. Nowadays, you can reach it on foot but priests used to take a boat to reach it! Right behind the Vlacherna Monastery is Pontikonisi, "Mouse Island". It is called this way because of its mouse shape seen from the sky!
You can visit this tiny island by taking a boat next to the Vlacherna Monastery for about 2/3€. And no, you won't see any mice when there, but if you are lucky, you might encounter some rabbits, the island is full of them!
Kassiopi is a charming small town in the northeast of Corfu. Its pretty harbour full of restaurants and its old abandoned castle overlooking the town makes it a must-see during a trip to Corfu! Get lost in the small streets, walk the street around the castle and enjoy the breathtaking views over the sea at sunset… A perfect way to end a day.
Porto Timoni is one of the most beautiful beaches in Corfu due to its unique shape! The beach is actually made of two tiny bays, one facing the west and the other facing the east and Agios Georgios.
From Afionas, on the right side of Agios Georgios Beach, prepare to hike down a rocky path to the beach for about 20 minutes. Remember to bring a hat, some water and food with you, there is nothing down the beach! And that you have to hike back 😁! You can also take a taxi boat from Agios Georgios to reach Porto Timoni or rent a private boat.
13. Rent a boat in Arillas
Arillas is one of my favourite beaches in Corfu! I discovered it last year for the first time and, although we went to the nudist part of the beach by mistake (which is also the most spectacular), it ended up being one of my favourite days. The water is crystal clear, perfect for scuba diving!
I would highly suggest you rent a boat to explore the area, starting from the northern part of Arillas to Porto Timoni and Agios Georgios. Two other great places to rent a boat in Corfu are around Paleokastritsa or in Agios Stefanos in the northeast part of Corfu, not far from Kassiopi.
14. Visit Corfu's castles
Due to its strategic location, Corfu has been attacked by many empires over the centuries and had to reinforce its security and defence capacity. You will find many castles around the island, the most famous ones being the Old Fortress (Paleo Frourio in Greek) and the New Fortress (Neo Frourio) in Corfu Town, and Angelokastro nearby Paleokastritsa. The castles can be visited all year round, it's an opportunity to learn more about Corfu's complex history!
15. Go on a day-trip to Paxos (Paxoi islands)
Paxos (called by its plural Paxoi in Greek, pronounced "pahksee") and the small Antipaxos are two stunning islands located off the southern coast of Corfu. Prepare yourself to step foot in paradise: crystal clear, turquoise waters, impressive caves, pretty coastal villages and breathtaking views over the Ionian Sea makes a day in Paxos an unforgettable experience.
Ferries depart from Corfu Town, count 20€/person for a round trip. You can check ferries timetables here, or book a private trip to Paxos to go around the islands and the caves by boat!
16. Enjoy a Greek night at a restaurant
Something you definitely shouldn't miss when in Corfu! Take a night to discover a bit more of the Corfiot culture through its traditional music and dances, and of course, delicious food. We love going to our local restaurant in Acharavi, Maistro, which is well-known all around the island for its amazing Greek night.
Every Tuesday night in the summer, artists perform local dances and play Greek music while you enjoy some amazing seafood and local wine. You can also join the dances, which most people do, it's always so much fun!! If you come early, around 19:30 (depending on when you visit Corfu), you will also enjoy a beautiful sunset while having your aperitif… Remember to book a table before coming to the restaurant, it usually gets completely full.
Another thing not to miss when in Corfu during the summer is going to a panigiri. Panigiria are traditional festivals happening every night in different villages during the month of August! Each village celebrates the Saint whom the local church is named after with large barbecues, music, dances… All the Corfiots meet at panigiria! Something I love to eat there: loukoumades. These traditional doughnuts are served hot with honey and cinnamon, it's a delight!
Despite some parts of the island being very busy due to Corfu's popularity, some untouched areas remain very calm and peaceful. Corfu is an amazing place to do some yoga and relax, away from our busy city lives! More particularly, the island is perfect to do a yoga retreat. Check out Just Relax Yoga Holidays, a local business run by Alex's cousin Hara who will make you have an amazing, relaxing and unforgettable time in Corfu! Staying in a beautiful villa right by the beach, it's an opportunity to discover the island in a different way, meet incredible people, enjoy delicious Greek food and well, just relax!
19. Walk in the old village of Perithia
Old Perithia is considered to be Corfu's oldest village and is located on the flanks of Mount Pantokrator. Walk around the 14th-century houses and churches, enjoy the view and peacefulness of the place… If you are lucky, you might encounter its only resident: a friendly fox, usually walking around the village at sunset! There are a few tavernas (Greek restaurants) where you can enjoy an excellent lunch or dinner in a beautiful setting, and think about how sweet life is…
20. Kitesurf at Halikounas beach (also written Chalikounas beach)
Last but not least, go on a day trip to Halikounas beach, a long stretch of sand separating Korission Lake from the Ionian Sea. Winds are pretty strong there, making Halikounas the best beach in Corfu to do some windsurf and kitesurf. Kite Club Corfu and Surf Center Corfu, both located on Halikounas beach, rent all kinds of watersports equipment and offer classes to introduce you to the sports!
If you are staying in the northern part of Corfu, going there by car will take you approximately two and a half hours but trust me, the place is worth it! There is also a beach bar called Tayo where we enjoy having some drinks during the sunset.
Now you know what to do in Corfu!
I hope you enjoyed my list of best things to do in Corfu and you are now ready to start planning your trip! Feel free to email me or send me a message on Instagram @thebeachmuse if you have any questions about Corfu.
Ever been to Corfu? What was on your list of things to do? What did you enjoy the most? Let me know in the comments below ☺️
Did you like this post? Save it on Pinterest!