Pebbles, sand, rocks, peacefulness, never-ending parties… Corfu is home to dozens of beaches, each blessed with a unique atmosphere and natural beauty. Whether you are visiting the island with your significant other and looking for a romantic cove or travelling with children and in need of a safe, shallow beach, Corfu has it all. There is no shortage of options when it comes to beaches in Corfu!
Overall, keep in mind that the west coast has more sandy beaches, while the east coast beaches are pebbly. All equally beautiful!
This article contains affiliate links, which allows me to earn a small commission on any purchase you make through my links, at no extra cost to you. It helps me keep this blog running 
 thanks for understanding!
Going to the beach is definitely one of my favourite things to do in Corfu. And while there are dozens of beautiful beaches, if you are visiting Corfu for the first time make sure to go to any of these beautiful beaches: Paleokastritsa, Paradise Beach, Canal d'Amour, Glyfada, Kontogialos, Falikari, Arillas, Agios Georgios, Bataria, Kerasia, Acharavi beach, Halikounas, Barbati Porto Timoni and Liapades beach.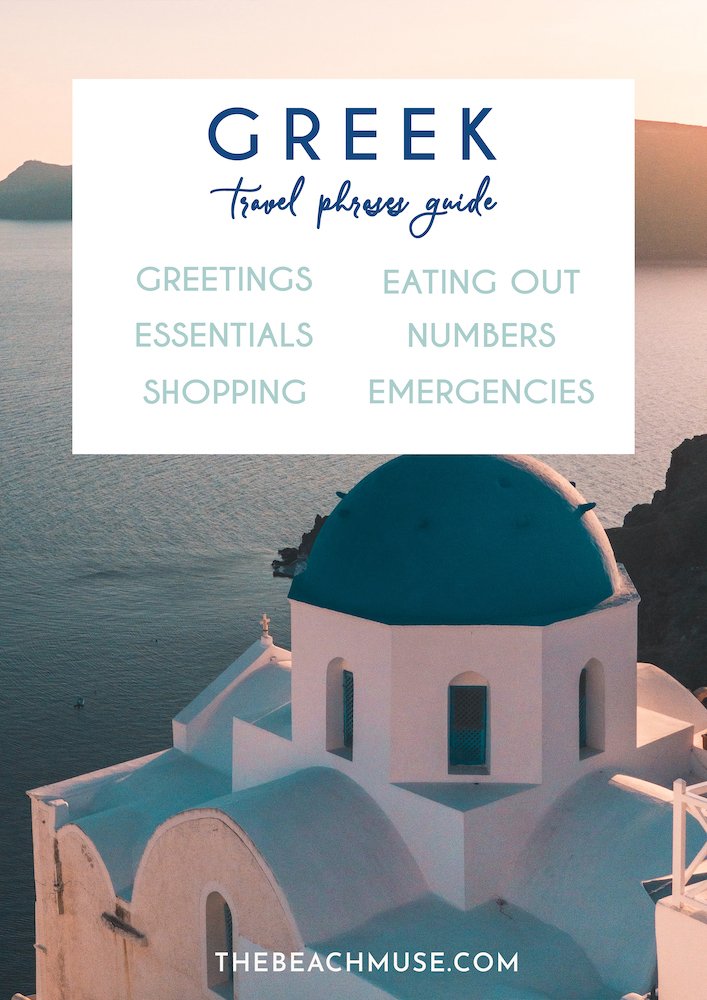 Paleokastritsa is not only famous for being the place where Ulysses washed up after his ship was wrecked in a storm. It is also a fantastic area, where crystal-clear waters meet thin sand in the most beautiful setting. Made of several beaches, Paleokastritsa is one of the most popular destinations in Corfu where tourists of all ages gather.
The main beach of Agios Spyridonas is very busy during the summer, don't come too late or there is a chance you won't find where to sit! Paleokastritsa is ideal for scuba diving or renting a boat / a paddle boat.
As its name suggests, Paradise beach is a mesmerising place where high cliffs fall straight in the turquoise water, making it one of the most unique beaches in Corfu! Enjoy the view during your boat ride from Paleokastritsa (it is the only way to reach Paradise beach) and how small you feel when arriving there. The beach is made of pebbles and is a paradise for scuba divers. Bear in mind that you need to bring your own water and food, the beach has no facilities!
Read more about Paradise beach.
Located in the northern part of Corfu, near the touristic village of Sidari, Canal d'Amour (the "love channel") is a must-see! This place became popular because of a tunnel, the "Canal d'Amour" ("love channel"), that leads from the main beach to the other side of the cliff. Carved by the sea and the wind over the years, the local legend says that two people swimming through it together will get married soon!
Canal d'Amour is very popular and busy in the summer so it is likely that you won't find anywhere to sit on its tiny beach. What you can do is leave your things on the rocks nearby while you swim through the channel.
We also like to explore around the area with a SUP or a canoe, you can rent one at d'Amour Beach in Sidari from our friend Zoe!
Another popular destination in Corfu, Glyfada is well known by Greeks who love the relaxed yet posh vibe of the Pazuzu beach club. Located down a hill, the view you can enjoy when swimming is incredible. You will also find several public areas between Pazuzu and the other bars and restaurants where you can sit for free, and enjoy the warm sand under your feet!
Pazuzu often hosts great parties during the summer, it's an amazing place to have some fun with friends. There are also some water activities on the beach.
Kontogialos is a beautiful, large sandy beach right next to Glyfada, near the village of Pelekas where you can spend a nice afternoon in the company of friends or family. Its shallow, crystal clear waters make it perfect for a relaxing swim! The beach is partly organised/partly public.
Faliraki beach (Ta bagna tou Alekou)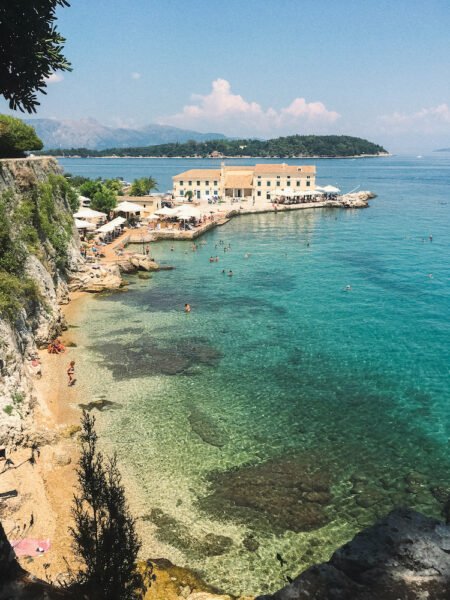 Faliraki is the only beach in the old town of Corfu. If you decide to stay in Corfu Town and don't want to drive to a beach, Faliraki is a great alternative. The water there is crystal clear! Many locals who want to enjoy a quick dip near their house favour this spot.
There is a rather small beach bar, Imabari, where you can rent sunbeds. Otherwise, it's pretty difficult to relax on the beach given its size!
A long stretch of sand facing the west, Arillas is a beautiful beach with crystal-clear waters and very thin sand where you can enjoy a peaceful afternoon along the impressive cliffs. The part in front of the hotels and restaurants is a bit busier, but keep in mind that further along the cliffs the beach is reserved for nudists! I like to take my snorkelling equipment to explore the area, last time I was there I saw hundreds of fishes! It was magical.
The beach of Agios Georgios is a favourite among locals! It is one of the biggest in Corfu, therefore you always find plenty of space to sit down and enjoy a quiet swim. It is well known for its water activities like jet-ski, you can also rent a small boat without needing a driver's license for a day or an afternoon (count around 60€ without gas for an afternoon).
Located in the village of Kassiopi, Bataria is a beautiful small cove with white pebbles washed by a turquoise sea. Most of the beach is occupied by sunbeds to rent but we always find a little space to sit for free! You can also lay down on the flat rocks on the right and left sides of the beach and lounge in the sun before taking a refreshing dip.
Southern from Kassiopi, next to Agios Stefanos, is a calm beach called Kerasia. Facing Albania (less than 3km away!), the sea is always quiet there. Many sailing boats come and drop anchor in this beautiful bay for a day! There is a nice taverna at the entrance of the beach that prepares tasty seafood, a great place to have lunch at. Sunbeds are available to sit on for 3€ in case you wouldn't want to sit on the pebbles, and you can also rent a SUP for a small price.
This beach is quite hidden so never too crowded! It's also a great place for snorkelling, that's what I love about it.
Being the beach in the village where we stay every summer, this is where we spend most of our time! With many cafes and restaurants directly on the beach, it is a perfect everyday beach. Not too crowded, sandy and shallow at the beginning, it is also very warm especially in the second part of August.
We love sitting on sunbeds at Maistro (free the customers!) or at Tierra del Fuego, a beach bar with a cool boho vibe. On the 15th of August, the bar right next to it, Fuego, organises a huge party every summer to celebrate this special day in Greece. A great event you should not miss!
Located in the southern part of Corfu, right next to the Korission Lake, Halikounas (also written Chalikounas) is a long sandy beach where kite- and windsurfers enjoy the strong wind to make impressive figures. Its crystal-clear, shallow waters also make it a perfect spot to swim and enjoy the afternoon. Stay on a sunbed under an umbrella at Tayo beach bar, or place your towel on the warm sand and relax in this little piece of paradise!
Make sure to check out Kite Club Corfu and Surf Center Corfu, both located on the beach, they rent all kinds of watersports equipment and offer classes.
About 20km north from Corfu Town, Barbati offers a pretty setting, right down the hills. Think transparent sea, white pebbles and swimming with fishes. This beach is appreciated by locals, and not too touristy: you will easily find somewhere to sit without stepping on your neighbour's towel, unlike some other beaches in Corfu! A few restaurants and beach bars offer sunbeds to make yourself comfortable, but you can also install your towel on the free areas of the beach.
Porto Timoni is one of the most beautiful beaches in Corfu due to its unique shape! The beach is actually made of two tiny bays, one facing the west and the other facing the east and Agios Georgios. Reaching it is not one of the easiest tasks, you will have to either hike down a rocky path from Afionas for about 20 minutes, take a taxi boat in Agios Georgios or rent a private boat. Remember to bring a hat, some water and food with you, there is nothing down on the beach!
Located not far away from Paleokastritsa, the beach of Liapades is quieter than its big sister Agios Spyridonas, while offering similar breathtaking views. The calm, turquoise sea invites you to dive in and explore the shore. Sunbeds and umbrellas are available to rent, there is also a small public area at the end of the beach where you can sit freely.
Now you know about the best beaches in Corfu!
I hope this little guide was useful! And please, don't forget: when going to the beach, always remember to wear sunscreen (natural sunscreen if possible!), have a bottle of water with you, stay in the shadow as much as you can during peak hours (11:00 to 16:00) and clean after yourself! You wouldn't want these beautiful fishes you just said hi to, to eat plastic 🙂
And if you are planning a vacation to Corfu, make sure to check this guide about the best things to do in Corfu.
Did you like this post? Save it on Pinterest!