After being actively advised to visit Lefkada, one of the beautiful Greek islands of the Ionian sea with fantastic beaches, we decided to make a short stop there on our way to Corfu. And I must say I wasn't disappointed! I have never seen water so blue, cliffs so white. We spent a three day weekend in Lefkada, discovering its beautiful beaches, but it definitely wasn't long enough. Read on to discover how we enjoyed the beach and made the best out of our short trip to Lefkada!
This article contains affiliate links, which allows me to earn a small commission on any purchase you make through my links, at no extra cost to you. It helps me keep this blog running 
 thanks for understanding!
Scroll down to head straight to the video!
What is Lefkada known for?
Lefkada is part of the Ionian islands, and just like most islands there, it is home to incredible landscapes. Lefkada has many beautiful beaches and its white cliffs contrasting with the turquoise sea offer very scenic views. With pretty towns and delicious cuisine, Lefkada is a destination you must add to your list!
How to get to Lefkada
Lefkada is a big island located on Greece's west coast, and one of the most easily accessible islands of the country. Why is that? Because instead of having to take the boat, you can simply access it by car. Lefkada is really close to the mainland and therefore is linked by a floating bridge, which makes the trip quick and cheap.
To access Lefkada, take road 42 (EO Amfilochias Lefkadas) once you reach Amfilochia (if you are coming from Athens or the Peloponnese). If you are coming from the north, reach the city of Preveza, follow the road that leads to Aktio, and turn at Agios Nikolaos. You will then find the EO Amfilochias Lefkadas road that leads to the island. There are no tolls to get on the island, the entrance is free.
Does Lefkada have an airport?
There is no airport directly on the island of Lefkada! You can fly to the nearest airport which is the one of Preveza, located about 25 km away from Lefkada. From there, you can either take a bus or rent a car to reach Lefkada. A car is the best solution in my opinion because it will help you travel around the island easily. You can also travel to Lefkada by boat from close islands.
Now let's get to Lefkada's beautiful beaches and towns we discovered on our trip!
The best beaches and villages in Lefkada
Agios Nikitas
Once on the island, we decided to ride straight to the south of Lefkada to explore the beautiful beaches it hosts. We were supposed to make our first stop at Agios Nikitas, a cute coastal village on the north of the island.
Unfortunately, we didn't make it that far since our car broke down (the heat and other problems together never do well, our baby is getting old), and stopped instead at a nearby hotel to find a solution. Luck was on our side! The hosts, Mrs Spyros and Mrs Amalia were extremely kind and helpful and let us use the pool so we could cool down for a while. Found my solution! Much needed when it's 1 pm and the temperature hits 36°C. We decided to book a room there for the night as we hadn't planned our stay anyway. For your information, the hotel is called Maistros Apartments. It's a really charming place to stay.
Once our car situation was solved, we finally made it to Agios Nikitas. Yay! The village is very charming and romantic (especially at night!) and mainly consists of one pedestrian street, full of small shops and restaurants, that leads to the beach. Be careful there if you stop for lunch/dinner when choosing a restaurant as some of them are tourist traps. I suggest you check out T'agnantio or Asperous, they both make good food and are a safe choice.
Milos Beach
Agios Nikitas beach itself is not very big and can get crowded during July and August. Nevertheless, there is another beautiful beach not far from the village, Milos Beach. You can access it by boat or on foot, a small path leads through the hill and you can reach the beach within approximately 15 minutes.
But the best option for us was to swim there. With snorkelling equipment and flippers, it wasn't so difficult to reach it. Milos beach is about 500m+ away, swimming along the rocks in sometimes deep waters and waves. It could be difficult for some since you cannot make any break, so amateur swimmers please beware!
In between the two beaches, you will find a stunning small beach named Ammoudoula. It is only accessible by swimming (easy) or boat, so kind of a secret spot and much less crowded. The cliffs hide the sun in the afternoon so if you want to catch a tan there, visit it during the morning.
Porto Katsiki
The next day we visited Porto Katsiki, one of the most well-known beaches on the island. And I can see why! Pictures cannot translate half of what you take in when arriving there. The view is absolutely breathtaking. The white cliffs and pebbles contrast with the intense blue of the water, it truly looks surreal.
It is said that the name of the island, Lefkada, actually comes from "lefkos" which means white in Greek! Makes sense.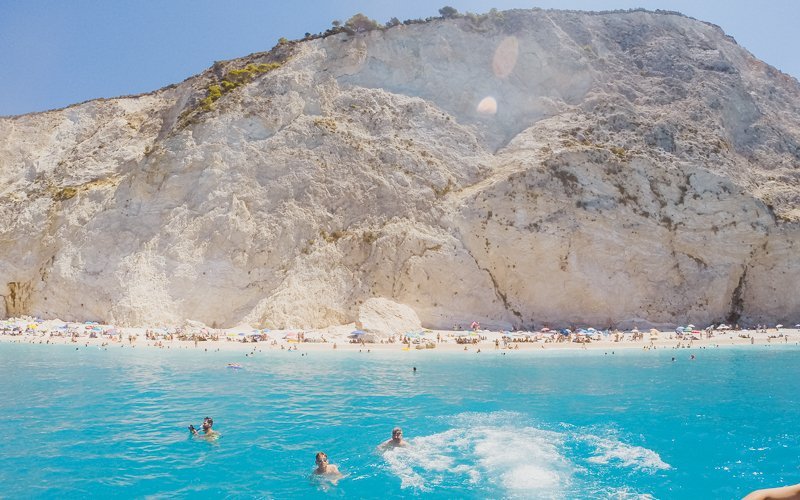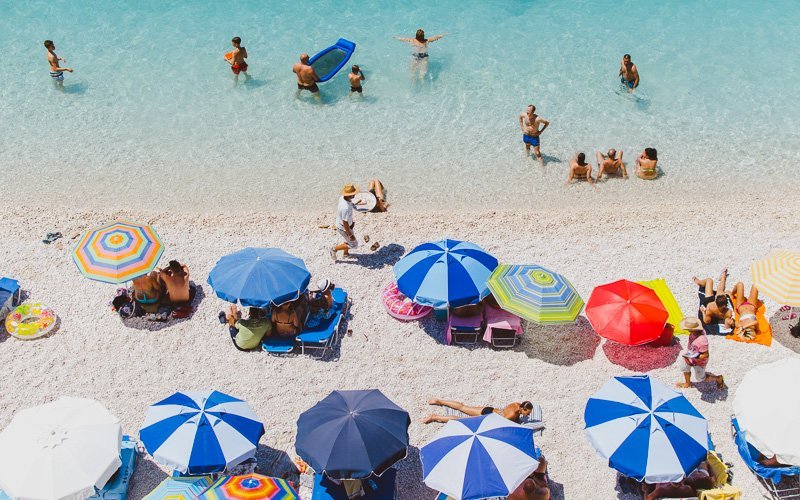 I have two pieces of advice to give you: first, get there early. We arrived at 11 and the parking lot was already almost full. You can park on the roads above for free but again, it was almost full so get there early! Second, take everything you need with you when you first go to the beach. It is only accessible by stairs that you must climb under the burning sun. It has a cafeteria near the parking area which sells water and food but trust me, you won't be willing to climb the stairs up and down more than once.
If you like exploring, I advise you to swim to the left side of Porto Katsiki. You will find there another beach equally beautiful, but totally empty. You can push even a little further, there is a bay with shallow and warm water (but no beach). Incredible views all around this area!
For dinner, we made a stop at a welcoming taverna called Greco Levante, located above Egremni beach (the beach is only accessible by boat nowadays due to a collapse of the cliff). The food there was really good, they serve all kinds of traditional dishes. Unfortunately, we didn't make it before sundown but it has a perfect view of the sea and sunset.
Vassiliki
We ended our day at the nice bay of Vassiliki, which is a great spot for windsurfers. Have a walk along the main street and along the small marina, where you will find many restaurants and bars, and enjoy the relaxing atmosphere of this charming village!
Agiofili Beach
Vassiliki is located near another wonderful beach, Agiofili, which you will find at the end of a dirt road. It is one of the most pretty beaches in Lefkada! Be careful with your car because, at some point, the road gets a little uneven. The beach is pretty small and surrounded by small cliffs. It is made of pebbles (if you can't bear them, bring some shoes!) and has some of the clearest water on the island, which makes it one of the best spots to admire sea life.
Once again, get there early to find a spot to park your car and be able to sit on the beach! Agiofili is also accessible by taxi boat from 10:00 every 30 minutes on till 19:30 and costs 6 euros. So the best thing to do is to go there around 9:00, park your car outside of the parking (or pay 5 euros to be inside), and enjoy the beach before most of the tourists arrive. The area will be quiet till noon at most during busy months…
We left in the afternoon to go back to the mainland and took the road along the east coast, the ride was really pleasant. If you look between the trees you can see many beehouses – by the way, Lefkada's honey is delicious. We only made a quick stop in the beautiful town of Kallithea, to then continue our trip until our next stop.
That was our trip to pretty beaches and towns in Lefkada, if you have any question about any place I have mentioned, feel free to ask! I'd be happy to help you.
You can check the video below for more visuals of Lefkada.
And if you liked this article, don't forget to Pin it!
Thanks for reading!